Since 2008, the generosity and commitment of North Texans in Dallas-Fort Worth and surrounding areas has generated over $18 million in donations for local hunger-relief charities. When you participate in Souper Bowl of Caring, you are joining groups across the country to #TackleHunger and inspire others to give and serve. Join Us.

Collected
In Cash and Food Items
Donated
100%
To Charities in Their Area
Community Giving
Food and funds are often depleted after the busy holiday season and Souper Bowl of Caring is a way to give back during a crucial time for food banks, soup kitchens and meal programs. Our grocery partners: Albertsons, Kroger, Market Street and Tom Thumb have teamed up to make giving simple. Look for the Souper Bowl of Caring display to buy prepackaged food items or make a cash donation at the register. 100% of in-store donations directly benefit local-hunger relief charities including the North Texas Food Bank and Tarrant Area Food Bank with over 400 combined partner agencies in 26 counties.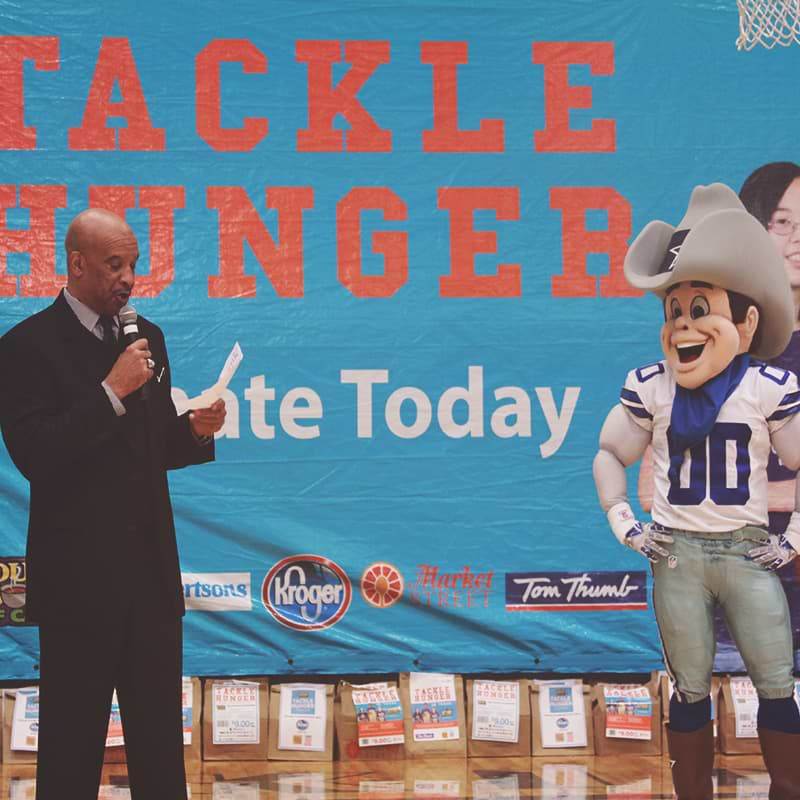 North Texas Hunger Facts
In North Texas, 1 in 5 children lives in a food-insecure household
Tarrant County is one of the top 10 counties with the highest number of hungry people in America
Every $1 donated provides a minimum of 3 meals in North Texas
Most Needed Items
Pop Top cans such soups, raviolis, fruit, veggies
Canned or pouched tuna/chicken
Peanut Butter
Cereal (hot and cold) (both single serve and normal)
Single Serving Mac N Cheese
Kid Friendly snacks such as Nutrition/Granola Bars
Juice Boxes
About North Texas Food Bank
The North Texas Food Bank (NTFB) is a top-ranked nonprofit hunger-relief organization operating a state-of-the-art volunteer and distribution center in Plano – the Perot Family Campus. Last year, the Food Bank worked hard in partnership with member agencies from our Feeding Network to provide access to almost 77 million nutritious meals across a diverse 13-county service area – this means more than 200,000 meals per day for hungry children, seniors and families. But the need for hunger relief in North Texas is complex and in order to meet the need the NTFB is working to increase our food distribution efforts. Our goal is to provide access to 92 million nutritious meals annually by 2025. NTFB is a member of Feeding America, a national hunger relief organization.
About Tarrant Area Food Bank
Tarrant Area Food Bank, based in Fort Worth, holds the belief that all people deserve regular, nutritious meals. TAFB works to empower communities to eliminate hunger by providing food, education and resources through innovation and collaboration. Through a network of 270 Partner Agencies, TAFB serves 13 counties in North Texas. Learn more at tafb.org and on Facebook, Twitter, Instagram, YouTube, LinkedIn, Pinterest and Flickr.
Souper Bowl of Caring North Texas Community Kick Off
Souper Bowl of Caring North Texas Campaign
Help us reach our community goal of $2.2 million in monetary and food donations for North Texans in need.
Donate to Souper Bowl of Caring
One of the fundamentals of Souper Bowl of Caring is that everything collected by our participants during their campaign is donated directly to the charity of their choice in their local community. Because of this, we rely on donations from caring people like you to help us continue our mission to unite communities and empower youth to tackle hunger. A donation to Souper Bowl of Caring is an investment: For every $1 you donate, $30 is generated for charities in local communities across the country.